Accredited Online
Ph.D. Programs
Ph.D. degrees are the highest possible level of educational attainment. If you aspire to become a recognized expert in a specialized field or want to develop encyclopedic knowledge in a niche subject, online Ph.D. programs offer a convenient, flexible means of meeting your career and learning objectives. In recognition of their elite credentials, doctorate holders also enjoy some of the highest average earnings of any educational attainment level.
More Ph.D. candidates choose to study online as the virtual classroom facilitates custom study schedules. You can continue to work while you study and strike the right balance among school, life, and outside commitments.
Best Online Ph.D. Programs for 2020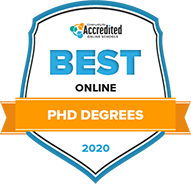 Methodology
2-Year Colleges
While online doctoral programs provide a path to the pinnacle of academic achievement, they come with a hefty time investment. In many disciplines, completing a Ph.D. requires about four years, or eight semesters, of full-time study. Traditional learning offers little flexibility and demands more sacrifice. An online Ph.D. holds strong appeal as an alternative path since students can accelerate and decelerate their learning as needed.
These rankings list the top online doctorate programs for the 2020-2021 academic year. Use them as a guide to jump-start your research and explore the top programs currently offered at the nation's leading institutions.
Ph.D. Programs: The Basics
Conventional wisdom suggests that most people who enroll in online Ph.D. programs aspire to careers in academia. While doctoral degrees certainly offer a proven path to professorships, growing numbers of working professionals choose to earn them. Ph.D. holders differentiate themselves in a job market filled with master's degrees.
Ph.D. candidates certainly work hard to earn these advantages. Coursework is rigorous, intensive, and demanding. Self-directed readings complement focused research projects typically completed under the tutelage of a tenured supervisor and culminating in a dissertation -- an extended academic paper on a highly specific subject. After submitting the dissertation, the Ph.D. candidate will generally appear before an academic committee to defend their paper.
There are a wide variety of professional doctoral degrees with the majority of major studies undertaken in business and management, education, law, engineering, dental science, healthcare, medicine and counseling/psychology. Academic Ph.D. fields are extensive and diverse.
Here are a few of the many doctoral degrees available:
Acupuncture (D.Ac.)
Advanced Nursing Practice (D.N.P.)
Architecture (D.Arch.)
Business Administration (D.B.A.)
Chiropractic (D.C.)
Computer Science (D.C.S.)
Education (Ed.D.)
Engineering (D.Eng.)
Health Administration (D.H.A.)
Law and Policy (L.P.D., D.L.P.)
Medicine (M.D.)
Physical Therapy (D.P.T.)
Psychology (Psy.D)
Science (D.Sc., Sc. D.)
Theology (D.Th., Th.D)
Social Work (D.S.W.)
Veterinary Medicine (D.V.M.)
Below, this guide lists a selection of courses that demonstrate the advanced nature of doctoral studies:
| Course | Description |
| --- | --- |
| Education District Budget, Finance and Resources | Topics focus on finance administration for public school districts, including forecasting, strategic planning, resource allocation, state and federal regulations, and tax impacts. |
| Independent Study in Nursing Science | Renewable for 1-6 credit hours in an approved research project in nursing practice, this course focuses on the development of a scholarly article, proposal, or similar documentation. |
| Accounting and Management Workshop | This course evaluates current pertinent topics in financial management and accounting. Directed research and a seminar paper are required for completion. |
| Social Welfare Policy | This class focuses on the political and economic aspects of the design, implementation, and monitoring of social service programming using policy analysis frameworks. |
| Leadership in the Faith Community | This classes assesses the challenges facing North American Church leadership, including pastoral planning, interpersonal communications, facilitation of groups, and proficiency in leading services. |
Ph.D. Program Earning Potential
Online doctoral programs reward successful students with outstanding earning potential and low unemployment rates. Excluding the specialized degrees held by professionals like lawyers, Ph.D. graduates make more money and suffer less unemployment than people at any other level of educational attainment.
According to a 2019 report from the Bureau of Labor Statistics, labor force members with doctoral degrees earn median incomes of $1,825 per week. This represents 27.2% more than the typical master's degree-holder and 52.3% more than the average bachelor's graduate. Their employment rates also compare favorably: just 1.6% of doctoral degree-holders were unemployed at the time of the report's publication, compared to 2.1% of master's holders and 3.7% of those who attended college but never earned a degree.
Why Get a Ph.D.?
Students will need a Ph.D. in order to work in certain careers in academics and research, often within the fields of higher education, healthcare, and medicine. Earning a professional doctoral degree can also benefit mid-level professionals seeking advancement to top management roles in technology, finance, engineering, and law.
Culturally and professionally, the Ph.D. carries with it an unmatched level of educational attainment and reverence.
How Online Ph.D. Programs Work
Because Ph.D. degrees offer more self-direction than master's or bachelor's programs, they make an ideal complement to the inherent scheduling and self-pacing advantages of online learning. One major advantage of doing an online Ph.D. derives from your ability to study from anywhere: you can work with leading authorities and recognized experts in your field without having to relocate, helping you derive more enjoyment and value from the undertaking.
Ph.D. degrees typically involve thorough literature reviews of current research trends in your chosen field, proposing and conducting an original research study, carrying out your project, and presenting your findings in a dissertation and defending your work. Taking Ph.D. programs online allows you to perform this rigorous work in a comfortable, casual setting, all while demonstrating your ambition to prospective future employers. The most successful online doctoral students tend to share qualities including high levels of self-motivation, insatiable curiosity, and a total commitment to reaching the zenith of scholastic achievement.
Online Learning Q & A
Are online doctoral programs easier to complete?
Students who complete their Ph.D. online tend to benefit from higher levels of scheduling flexibility, which reduces the stress associated with these demanding study paths. So, in this regard, one could argue that Ph.D. online programs offer a major advantage over their traditional counterparts.
How do I evaluate online doctorate or Ph.D. program faculty?
Start by reviewing the publishing and research records of the program's faculty members to determine the degree to which they have earned wider recognition in the academic world. Also, compare their research interests to yours. The closer they match, the better the fit.
How do I apply to an online doctorate or Ph.D. program?
Each school maintains its own application procedures and policies. The online program page or portal will provide detailed instructions on how to apply and what credentials candidates will need.
Do online universities offer financial aid specific to Ph.D. or doctoral students?
Yes. Online Ph.D. students should begin their aid searches by exploring federal government aid resources. Schools also usually offer their own internal student aid and scholarship programs, so inquire with the financial aid office of each institution under your consideration.
Are doctoral course credits transferable?
Most online Ph.D. programs that allow students to transfer previously earned credits only recognize coursework specifically completed at the doctorate level. In rare instances, schools may accept master's level courses if they relate directly to the candidate's approved research interests.
Ph.D. Program Accreditation
College accreditation is a voluntary process by which institutions measure the quality of their degree programs against nationally recognized academic standards. In many cases, traditional and online Ph.D. schools may be accredited at the institutional level by regional accreditation agencies. Six regional accreditation agencies approved by the Department of Education confer institutional accreditation to schools in New England, the mid-Atlantic, Midwest, Southern, Western, and Northwest states.
Colleges and Universities with institution-wide accreditation commonly seek special accreditation for departments that offer doctoral degree programs. For example, a department offering a Ph.D. in Education will seek special accreditation from the National Council on Accreditation of Teacher Education. Departments or college divisions offering advanced nursing Ph.D.s may seek special accreditation by the Commission on Collegiate Nursing Education.
Online schools often add to institution-wide accreditation with special accreditation from organizations such as the United States Distance Learning Association or Distance Learning Council. The accreditation process begins when the institution performs an internal assessment based on standards held by accreditation agencies. The agency follows up with an on-campus visit and evaluation. In some cases, the institution may be required to upgrade its programs in order to receive accreditation.
Accreditation renewals are subject to monitoring and approval by the agency. The value of attending an accredited school, college, or university is multifold. Many employers will not recognize a degree earned at a non-accredited institution. For students seeking financial aid, accreditation is required by the U.S. Department of Education for school participation in federal grants, loans, and fellowship programs.
Take the next step towards your future with online learning.
Discover schools with the programs and courses you're interested in, and start learning today.